0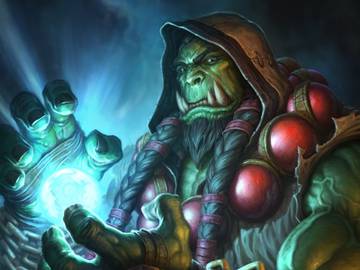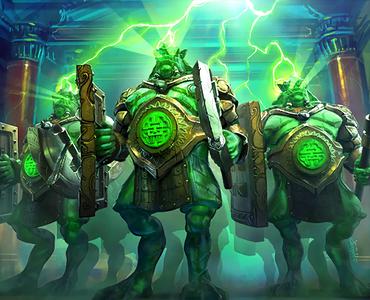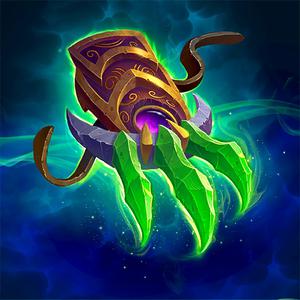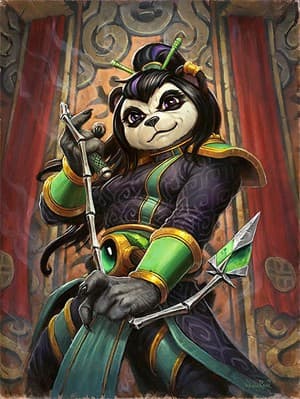 Context
Jade Midrange Shaman is the Jade version of the very strong Classic Midrange Shaman deck that dominated the meta prior to the release of Mean Streets of Gadgetzan. The main change is to replace Thunder Bluff Valiant and a few other cards by a small to medium Jade package.
Playstyle
The playstyle is identical to that of Classical Midrange Shaman as you take control of the board from the very start through the use of powerful early game minions, direct damage spells and the crushing Spirit Claws that finds a lot of synergy with the many spell damage minions in the deck. It's easy to re-establish a board after a board clear.
The win condition consists of snowballing your board control to victory, aided by the Jade mechanic and a powerful swing by Al'Akir the Windlord.
Avg. 6632 Low. 4480
11 Core Cards
2

JADE CLAWS

2

2

MAELSTROM PORTAL

2

4

HEX

2

4

JADE LIGHTNING

2

6

AYA BLACKPAW

6

THING FROM BELOW

2
These 11 cards are in every variant.
Variant Comparison
Show Comparison
Hide Same Cards
Top 10 Variants
1

ARGENT SQUIRE

1

1

EVOLVE

1

1

FIRE FLY

1

2

BLOODMAGE THALNOS

2

FLAMETONGUE TOTEM

2

2

JADE CLAWS

2

2

MAELSTROM PORTAL

2

3

LIGHTNING STORM

1

4

BARNES

4

CORPSETAKER

2

4

HEX

2

4

JADE LIGHTNING

2

4

JADE SPIRIT

2

5

SKELEMANCER

1

5

THRALL, DEATHSEER

6

AYA BLACKPAW

6

FIRE ELEMENTAL

1

6

THING FROM BELOW

2

8

AL'AKIR THE WINDLORD

8

BONEMARE

2

8

THE LICH KING

1

FIRE FLY

2

2

FIRE PLUME HARBINGER

2

2

FLAMETONGUE TOTEM

2

2

JADE CLAWS

2

2

MAELSTROM PORTAL

2

3

HOT SPRING GUARDIAN

2

3

IGNEOUS ELEMENTAL

2

3

MANA TIDE TOTEM

1

4

HEX

2

4

JADE LIGHTNING

2

4

TOL'VIR STONESHAPER

1

5

SERVANT OF KALIMOS

2

6

AYA BLACKPAW

6

FIRE ELEMENTAL

2

6

THING FROM BELOW

2

7

BLAZECALLER

2

8

KALIMOS, PRIMAL LORD

2

BLOODMAGE THALNOS

2

DEVOLVE

2

2

JADE CLAWS

2

2

MAELSTROM PORTAL

2

3

HOT SPRING GUARDIAN

2

3

LIGHTNING STORM

2

3

MANA TIDE TOTEM

2

3

SPIRIT ECHO

2

4

HEX

2

4

JADE LIGHTNING

2

4

JADE SPIRIT

2

4

JINYU WATERSPEAKER

2

5

VOLCANO

2

6

AYA BLACKPAW

6

THING FROM BELOW

2

7

JADE CHIEFTAIN

2

...

2

DEVOLVE

2

2

JADE CLAWS

2

2

MAELSTROM PORTAL

2

3

HOT SPRING GUARDIAN

2

3

LIGHTNING STORM

1

3

MANA TIDE TOTEM

2

3

SPIRIT ECHO

2

3

STONEHILL DEFENDER

2

4

HEX

2

4

JADE LIGHTNING

2

4

JADE SPIRIT

2

4

JINYU WATERSPEAKER

2

5

VOLCANO

2

5

WHITE EYES

6

AYA BLACKPAW

6

THING FROM BELOW

2

7

JADE CHIEFTAIN

1

1

MISTRESS OF MIXTURES

1

2

ACIDIC SWAMP OOZE

1

2

BLOODMAGE THALNOS

2

DEVOLVE

2

2

JADE CLAWS

2

2

MAELSTROM PORTAL

2

3

LIGHTNING STORM

2

3

MANA TIDE TOTEM

2

3

STONEHILL DEFENDER

2

4

HEX

2

4

JADE LIGHTNING

2

4

JINYU WATERSPEAKER

2

5

ELISE THE TRAILBLAZER

5

HALLAZEAL THE ASCENDED

5

VOLCANO

2

5

WHITE EYES

6

AYA BLACKPAW

6

THING FROM BELOW

2

10

N'ZOTH, THE CORRUPTOR

1

MISTRESS OF MIXTURES

1

2

DEVOLVE

2

2

JADE CLAWS

2

2

MAELSTROM PORTAL

2

3

HOT SPRING GUARDIAN

1

3

LIGHTNING STORM

2

3

SPIRIT ECHO

1

3

STONEHILL DEFENDER

2

4

HEX

2

4

JADE LIGHTNING

2

4

JADE SPIRIT

2

4

JINYU WATERSPEAKER

2

5

HALLAZEAL THE ASCENDED

5

HARRISON JONES

5

VOLCANO

2

6

AYA BLACKPAW

6

THING FROM BELOW

2

7

JADE CHIEFTAIN

2

2

BLOODMAGE THALNOS

2

JADE CLAWS

2

2

MAELSTROM PORTAL

2

3

FAR SIGHT

2

3

HOT SPRING GUARDIAN

2

3

LIGHTNING STORM

1

3

MANA TIDE TOTEM

2

3

SPIRIT ECHO

2

4

HEX

2

4

JADE LIGHTNING

2

4

JADE SPIRIT

2

4

JINYU WATERSPEAKER

2

5

HARRISON JONES

5

VOLCANO

2

6

AYA BLACKPAW

6

THING FROM BELOW

2

7

JADE CHIEFTAIN

2

0

TOTEMIC MIGHT

2

1

LIGHTNING BOLT

2

1

MISTRESS OF MIXTURES

2

1

PRIMAL FUSION

2

2

BLOODMAGE THALNOS

2

FLAMETONGUE TOTEM

2

2

JADE CLAWS

2

2

MAELSTROM PORTAL

2

3

LIGHTNING STORM

1

3

MANA TIDE TOTEM

2

4

BARNES

4

HEX

2

4

JADE LIGHTNING

2

4

WICKED WITCHDOCTOR

2

5

BLOODLUST

1

6

AYA BLACKPAW

6

THING FROM BELOW

2

8

AL'AKIR THE WINDLORD

...

2

BLOODMAGE THALNOS

2

DEVOLVE

2

2

JADE CLAWS

2

2

MAELSTROM PORTAL

2

3

ACOLYTE OF PAIN

1

3

GLUTTONOUS OOZE

1

3

LIGHTNING STORM

2

3

MANA TIDE TOTEM

2

3

SPIRIT ECHO

2

3

STONEHILL DEFENDER

1

4

HEX

2

4

JADE LIGHTNING

2

4

JADE SPIRIT

2

4

JINYU WATERSPEAKER

1

5

HALLAZEAL THE ASCENDED

5

VOLCANO

1

6

AYA BLACKPAW

6

THING FROM BELOW

2

7

JADE CHIEFTAIN

1

8

KALIMOS, PRIMAL LORD

1

EVOLVE

2

1

FIRE FLY

2

2

DEVOLVE

1

2

FLAMETONGUE TOTEM

2

2

JADE CLAWS

2

2

MAELSTROM PORTAL

2

3

LIGHTNING STORM

2

3

MANA TIDE TOTEM

1

3

SPIRIT ECHO

1

3

STONEHILL DEFENDER

2

4

HEX

2

4

JADE LIGHTNING

2

4

JINYU WATERSPEAKER

1

4

MASTER OF EVOLUTION

1

5

BLOODLUST

1

5

DOPPELGANGSTER

2

5

THRALL, DEATHSEER

6

AYA BLACKPAW

6

THING FROM BELOW

2