MIRACLE ROGUE Standard

5.5%

48.0%

12

| Updated Jul 26, 2017 - Back to Rogue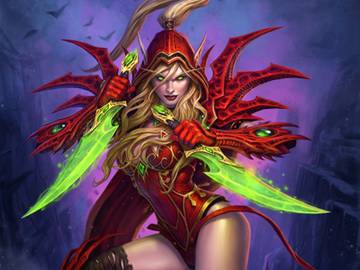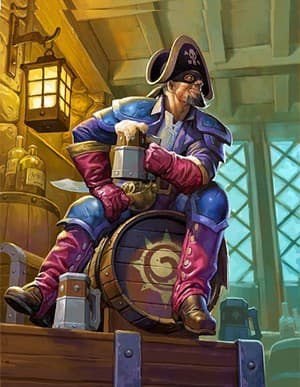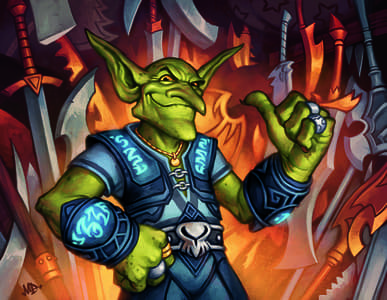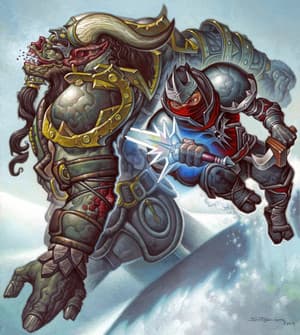 Miracle Rogue is one of the classic Hearthstone deck types that has been around since the beginning.
The premise of the deck is simple, but it's not trivial to play it well, which is one of the reasons why it's less popular with new players, while being a staple for seasoned legend players.
Miracle Rogue uses Rogue's ample amount of early-game removal tools to halt the opponent's board development, to then produce giant swing turns in the late game. These swing turns are made possible by Gadgetzan Auctioneer, which in conjunction with cheap burn and utility spells allows to draw your entire deck in only a few turns.
Avg. 9899 Low. 7220
12 Core Cards
0

BACKSTAB

2

0

PREPARATION

2

1

HALLUCINATION

1

1

SWASHBURGLAR

2

2

EVISCERATE

2

3

EDWIN VANCLEEF

6

GADGETZAN AUCTIONEER

2
These 12 cards are in every variant.
15 Variants
0

BACKSTAB

2

0

COUNTERFEIT COIN

2

0

PREPARATION

2

1

HALLUCINATION

2

1

PATCHES THE PIRATE

1

SWASHBURGLAR

2

2

BLOODMAGE THALNOS

2

EVISCERATE

2

2

RAZORPETAL LASHER

2

3

EDWIN VANCLEEF

3

FAN OF KNIVES

2

3

MIMIC POD

2

3

QUESTING ADVENTURER

1

3

SI:7 AGENT

1

4

SHERAZIN, CORPSE FLOWER

5

VILESPINE SLAYER

2

6

GADGETZAN AUCTIONEER

2

12

ARCANE GIANT

2

12.8%

0

BACKSTAB

2

0

COUNTERFEIT COIN

2

0

PREPARATION

2

1

HALLUCINATION

2

1

PATCHES THE PIRATE

1

SWASHBURGLAR

2

2

BLOODMAGE THALNOS

2

EVISCERATE

2

2

RAZORPETAL LASHER

1

3

EDWIN VANCLEEF

3

FAN OF KNIVES

2

3

MIMIC POD

2

3

QUESTING ADVENTURER

1

3

SI:7 AGENT

1

3

SHAKU, THE COLLECTOR

4

SHERAZIN, CORPSE FLOWER

5

VILESPINE SLAYER

2

6

GADGETZAN AUCTIONEER

2

12

ARCANE GIANT

2

0

BACKSTAB

2

0

COUNTERFEIT COIN

2

0

PREPARATION

2

1

COLD BLOOD

1

1

HALLUCINATION

2

1

PATCHES THE PIRATE

1

SWASHBURGLAR

2

2

BLOODMAGE THALNOS

2

EVISCERATE

2

2

RAZORPETAL LASHER

2

2

SAP

1

3

EDWIN VANCLEEF

3

FAN OF KNIVES

2

3

MIMIC POD

1

3

SI:7 AGENT

1

4

SHERAZIN, CORPSE FLOWER

5

VILESPINE SLAYER

2

6

GADGETZAN AUCTIONEER

2

12

ARCANE GIANT

2

0

BACKSTAB

2

0

COUNTERFEIT COIN

2

0

PREPARATION

2

1

HALLUCINATION

2

1

PATCHES THE PIRATE

1

SWASHBURGLAR

2

2

BLOODMAGE THALNOS

2

EVISCERATE

2

2

RAZORPETAL LASHER

1

2

SAP

1

2

SHIV

1

3

EDWIN VANCLEEF

3

FAN OF KNIVES

2

3

MIMIC POD

1

3

QUESTING ADVENTURER

2

3

SHAKU, THE COLLECTOR

5

VILESPINE SLAYER

2

6

GADGETZAN AUCTIONEER

2

12

ARCANE GIANT

2

0

BACKSTAB

2

0

COUNTERFEIT COIN

1

0

PREPARATION

2

1

COLD BLOOD

1

1

HALLUCINATION

2

1

PATCHES THE PIRATE

1

SOUTHSEA DECKHAND

1

1

SWASHBURGLAR

2

2

EVISCERATE

2

2

RAZORPETAL LASHER

2

2

SAP

2

3

EDWIN VANCLEEF

3

MIMIC POD

1

3

SI:7 AGENT

2

3

SHAKU, THE COLLECTOR

4

SHERAZIN, CORPSE FLOWER

5

BURGLY BULLY

1

5

LEEROY JENKINS

5

VILESPINE SLAYER

2

6

GADGETZAN AUCTIONEER

2

0

BACKSTAB

2

0

COUNTERFEIT COIN

2

0

PREPARATION

2

0

SHADOWSTEP

1

1

COLD BLOOD

1

1

HALLUCINATION

2

1

PATCHES THE PIRATE

1

SWASHBURGLAR

2

2

BLOODMAGE THALNOS

2

EVISCERATE

2

2

RAZORPETAL LASHER

2

2

SAP

1

3

EDWIN VANCLEEF

3

FAN OF KNIVES

2

3

MIMIC POD

1

4

SHERAZIN, CORPSE FLOWER

5

VILESPINE SLAYER

2

6

GADGETZAN AUCTIONEER

2

12

ARCANE GIANT

2

0

BACKSTAB

2

0

COUNTERFEIT COIN

2

0

PREPARATION

2

1

HALLUCINATION

2

1

PATCHES THE PIRATE

1

SWASHBURGLAR

2

2

BLOODMAGE THALNOS

2

EVISCERATE

2

3

EDWIN VANCLEEF

3

FAN OF KNIVES

2

3

MIMIC POD

2

3

SI:7 AGENT

1

3

SHADOW STRIKE

1

3

SHAKU, THE COLLECTOR

4

SHERAZIN, CORPSE FLOWER

5

ELISE THE TRAILBLAZER

5

VILESPINE SLAYER

2

6

GADGETZAN AUCTIONEER

2

12

ARCANE GIANT

2

0

BACKSTAB

2

0

COUNTERFEIT COIN

2

0

PREPARATION

2

1

COLD BLOOD

1

1

HALLUCINATION

2

1

PATCHES THE PIRATE

1

SWASHBURGLAR

2

2

BLOODMAGE THALNOS

2

EVISCERATE

2

2

RAZORPETAL LASHER

2

2

SAP

1

3

EDWIN VANCLEEF

3

FAN OF KNIVES

2

3

MIMIC POD

1

3

SI:7 AGENT

1

4

SHERAZIN, CORPSE FLOWER

4

XARIL, POISONED MIND

5

VILESPINE SLAYER

1

6

GADGETZAN AUCTIONEER

2

12

ARCANE GIANT

2

0

BACKSTAB

2

0

COUNTERFEIT COIN

2

0

PREPARATION

2

1

COLD BLOOD

1

1

HALLUCINATION

2

1

PATCHES THE PIRATE

1

SWASHBURGLAR

2

2

BLOODMAGE THALNOS

2

EVISCERATE

2

2

RAZORPETAL LASHER

2

2

SAP

2

3

EDWIN VANCLEEF

3

FAN OF KNIVES

2

3

QUESTING ADVENTURER

2

4

SHERAZIN, CORPSE FLOWER

5

BURGLY BULLY

1

5

LEEROY JENKINS

5

VILESPINE SLAYER

1

6

GADGETZAN AUCTIONEER

2

0

BACKSTAB

2

0

COUNTERFEIT COIN

2

0

PREPARATION

2

1

COLD BLOOD

2

1

FIRE FLY

1

1

HALLUCINATION

2

1

PATCHES THE PIRATE

1

SWASHBURGLAR

2

2

BLOODMAGE THALNOS

2

EVISCERATE

2

3

EDWIN VANCLEEF

3

FAN OF KNIVES

2

3

MIMIC POD

2

3

QUESTING ADVENTURER

1

3

SI:7 AGENT

1

3

SHAKU, THE COLLECTOR

4

SHERAZIN, CORPSE FLOWER

5

VILESPINE SLAYER

2

6

GADGETZAN AUCTIONEER

2

0

BACKSTAB

2

0

COUNTERFEIT COIN

2

0

PREPARATION

2

1

HALLUCINATION

2

1

PATCHES THE PIRATE

1

SWASHBURGLAR

2

2

BLOODMAGE THALNOS

2

EVISCERATE

2

2

RAZORPETAL LASHER

2

2

RAZORPETAL VOLLEY

2

2

SHIV

2

3

EDWIN VANCLEEF

3

FAN OF KNIVES

2

4

VIOLET TEACHER

1

5

VILESPINE SLAYER

2

6

GADGETZAN AUCTIONEER

2

12

ARCANE GIANT

2

0

BACKSTAB

2

0

COUNTERFEIT COIN

2

0

PREPARATION

2

1

COLD BLOOD

2

1

FIRE FLY

1

1

HALLUCINATION

1

1

PATCHES THE PIRATE

1

SOUTHSEA DECKHAND

1

1

SWASHBURGLAR

2

2

BLOODMAGE THALNOS

2

EVISCERATE

2

2

RAZORPETAL LASHER

2

2

SAP

2

3

EDWIN VANCLEEF

3

FAN OF KNIVES

2

3

MIMIC POD

2

4

SHERAZIN, CORPSE FLOWER

4

VIOLET TEACHER

1

6

GADGETZAN AUCTIONEER

2

0

BACKSTAB

2

0

PREPARATION

2

1

COLD BLOOD

2

1

HALLUCINATION

1

1

PATCHES THE PIRATE

1

SOUTHSEA DECKHAND

1

1

SWASHBURGLAR

2

2

BLOODMAGE THALNOS

2

EVISCERATE

2

2

RAZORPETAL LASHER

2

2

SAP

2

2

SHIV

2

3

EDWIN VANCLEEF

3

MIMIC POD

1

3

SI:7 AGENT

2

3

SHAKU, THE COLLECTOR

4

SHERAZIN, CORPSE FLOWER

4

VIOLET TEACHER

1

5

VILESPINE SLAYER

1

6

GADGETZAN AUCTIONEER

2

0.4%

0

BACKSTAB

2

0

COUNTERFEIT COIN

2

0

PREPARATION

2

1

COLD BLOOD

1

1

HALLUCINATION

2

1

PATCHES THE PIRATE

1

SWASHBURGLAR

2

2

BLOODMAGE THALNOS

2

EVISCERATE

2

2

GOLAKKA CRAWLER

1

2

RAZORPETAL LASHER

2

2

SAP

1

3

EDWIN VANCLEEF

3

FAN OF KNIVES

2

3

SI:7 AGENT

1

4

SHERAZIN, CORPSE FLOWER

5

VILESPINE SLAYER

2

6

GADGETZAN AUCTIONEER

2

12

ARCANE GIANT

2

0

BACKSTAB

2

0

COUNTERFEIT COIN

2

0

PREPARATION

2

1

COLD BLOOD

2

1

HALLUCINATION

1

1

PATCHES THE PIRATE

1

SWASHBURGLAR

2

2

BLOODMAGE THALNOS

2

EVISCERATE

2

2

RAZORPETAL LASHER

1

2

SAP

2

3

EDWIN VANCLEEF

3

FAN OF KNIVES

1

3

SI:7 AGENT

2

3

SHAKU, THE COLLECTOR

4

SHERAZIN, CORPSE FLOWER

4

XARIL, POISONED MIND

5

LEEROY JENKINS

5

VILESPINE SLAYER

2

6

GADGETZAN AUCTIONEER

2