MIRACLE ROGUE Standard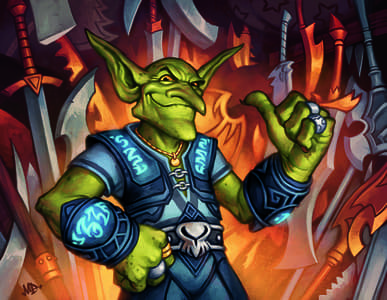 Context
Miracle Rogue is one of the classic Hearthstone deck types that has been around since the beginning. There was a period when it was less popular due to the popularity of the now defunct Oil Rogue, but since the dawn of Standard it's back in full swing.
The premise of the deck is simple, but it's not trivial to play it well, which is one of the reasons why it's less popular with new players, while being a staple for seasoned legend players.
Playstyle
Miracle Rogue uses Rogue's ample amount of early-game removal tools to halt the opponent's board development, to then produce giant swing turns in the late game. These swing turns are made possible by Gadgetzan Auctioneer, which in conjunction with cheap burn and utility spells allows to draw your entire deck in only a few turns.
The win condition consists of being able to produce a very strong board to produce massive burst damage for the final blow. This is done through various combinations of Edwin VanCleef, Leeroy Jenkins and Questing Adventurer in conjunction with Cold Blood and Conceal, topped off with a sprinkle of direct burn damage to the face.
Variant Comparison
Show Comparison
Hide Same Cards