PIRATE WARRIOR Standard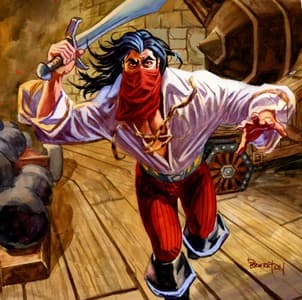 Context
Pirate Warrior is a very aggressive, weapon-focused deck. If you enjoy smacking your opponent in the face with an axe, this is your deck.
Playstyle
The cheap pirates such as N'Zoth's First Mate, Small-Time Buccaneer or Southsea Deckhand serve to provide an early board. The main mechanic of the deck consists of playing a weapon early and buffing the weapon either with Upgrade! or through pirate synergy using Bloodsail Cultist. Sir Finley Mrrgglton is a crucial element of the deck, as it provides a way to replace Warrior's non-aggressive default hero power with preferably Life Tap, or a more aggressive direct damage hero power.
The deck usually finishes off the opponent with a strong swing of big, buffed weapon, in combination with Leeroy Jenkins or Heroic Strike. Mortal Strike provides burn damage to pass a taunt for the final blow.
Variant Comparison
Show Comparison
Hide Same Cards
Variants
Apr 23, 2017 -- by Tempostorm

Standard Pirate Warrior

Diff. Cards:

0

Dust:

6760

1

N'ZOTH'S FIRST MATE

2

1

PATCHES THE PIRATE

1

SOUTHSEA DECKHAND

2

1

UPGRADE!

2

2

BLOODSAIL RAIDER

2

2

FIERY WAR AXE

2

2

GOLAKKA CRAWLER

2

2

HEROIC STRIKE

2

3

BLOODSAIL CULTIST

2

3

FROTHING BERSERKER

2

3

SOUTHSEA CAPTAIN

2

4

DREAD CORSAIR

2

4

KOR'KRON ELITE

2

4

NAGA CORSAIR

1

5

ARCANITE REAPER

2

5

CAPTAIN GREENSKIN

5

LEEROY JENKINS

Apr 06, 2017 -- by Trumpsc

Trump's Un'Goro Aggro Pirate Warrior

Diff. Cards:

0

Dust:

6640

1

N'ZOTH'S FIRST MATE

2

1

PATCHES THE PIRATE

1

SOUTHSEA DECKHAND

2

1

UPGRADE!

2

2

BLOODSAIL RAIDER

2

2

FIERY WAR AXE

2

2

HEROIC STRIKE

2

2

RAVASAUR RUNT

2

3

BLOODSAIL CULTIST

2

3

FROTHING BERSERKER

2

3

SOUTHSEA CAPTAIN

2

4

DREAD CORSAIR

2

4

KOR'KRON ELITE

2

4

NAGA CORSAIR

1

5

ARCANITE REAPER

2

5

CAPTAIN GREENSKIN

5

LEEROY JENKINS

Mar 06, 2017 -- by Valeera

Valeera's Legend Pirate Warrior Post Patch!

Diff. Cards:

0

Dust:

5420

1

BLOODSAIL CORSAIR

1

1

N'ZOTH'S FIRST MATE

2

1

PATCHES THE PIRATE

1

SOUTHSEA DECKHAND

2

1

UPGRADE!

2

2

BLOODSAIL RAIDER

2

2

BLUEGILL WARRIOR

2

2

FIERY WAR AXE

2

2

HEROIC STRIKE

2

3

BLOODSAIL CULTIST

2

3

FROTHING BERSERKER

2

3

MURLOC WARLEADER

2

3

SOUTHSEA CAPTAIN

1

4

DREAD CORSAIR

2

4

KOR'KRON ELITE

2

5

ARCANITE REAPER

2

5

FINJA, THE FLYING STAR