MIDRANGE HUNTER Standard

6.11%

49.0%

9

| Updated Jul 26, 2017 - Back to Hunter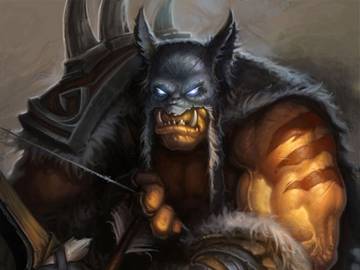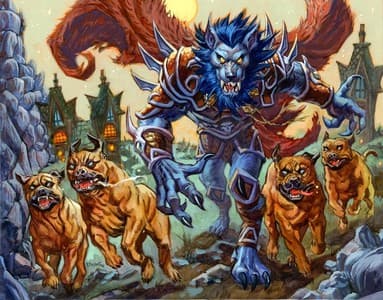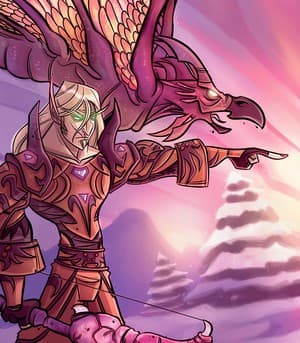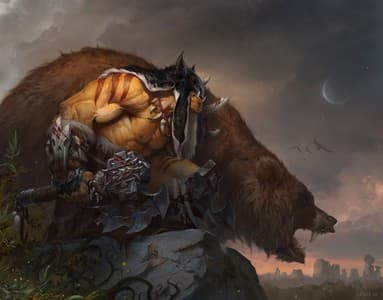 Midrange Hunter is one of Hearthstone's most classic decks. Most successful Hunter decks revolve around dealing damage to the opponent's hero quickly, and Midrange Hunter represents the slowest possible way to do this without drifting off too much into a control play style that would lose the synergy with your hero power.
The play style is a typical midrange play style, where your aim is to curve out the opponent at every turn.
Avg. 2364 Low. 960
9 Core Cards
1

ALLEYCAT

2

2

CRACKLING RAZORMAW

2

3

ANIMAL COMPANION

1

3

KILL COMMAND

2

4

HOUNDMASTER

2
These 9 cards are in every variant.
15 Variants
1

ALLEYCAT

2

1

FIERY BAT

2

1

HUNTER'S MARK

2

1

JEWELED MACAW

2

2

CRACKLING RAZORMAW

2

2

KINDLY GRANDMOTHER

2

2

SCAVENGING HYENA

2

3

ANIMAL COMPANION

2

3

EAGLEHORN BOW

2

3

KILL COMMAND

2

3

UNLEASH THE HOUNDS

2

4

HOUNDMASTER

2

5

NESTING ROC

2

5

TUNDRA RHINO

2

6

SAVANNAH HIGHMANE

2

1

ALLEYCAT

2

1

HUNGRY CRAB

2

1

JEWELED MACAW

2

2

CRACKLING RAZORMAW

2

2

GOLAKKA CRAWLER

2

2

KINDLY GRANDMOTHER

2

2

SCAVENGING HYENA

2

3

ANIMAL COMPANION

2

3

EAGLEHORN BOW

2

3

KILL COMMAND

2

3

RAT PACK

2

3

UNLEASH THE HOUNDS

1

4

HOUNDMASTER

2

4

INFESTED WOLF

1

5

TUNDRA RHINO

2

6

SAVANNAH HIGHMANE

2

1

ALLEYCAT

2

1

FIERY BAT

1

1

HUNGRY CRAB

2

1

JEWELED MACAW

2

2

CRACKLING RAZORMAW

2

2

GOLAKKA CRAWLER

2

2

KNIFE JUGGLER

1

2

SCAVENGING HYENA

2

3

ANIMAL COMPANION

2

3

DEADLY SHOT

1

3

EAGLEHORN BOW

2

3

KILL COMMAND

2

3

UNLEASH THE HOUNDS

1

3

VICIOUS FLEDGLING

1

4

HOUNDMASTER

2

4

INFESTED WOLF

1

5

TUNDRA RHINO

2

6

SAVANNAH HIGHMANE

2

5.2%

1

ALLEYCAT

2

1

FIRE FLY

2

1

JEWELED MACAW

1

2

CRACKLING RAZORMAW

2

2

DIRE WOLF ALPHA

2

2

GOLAKKA CRAWLER

1

2

KINDLY GRANDMOTHER

2

2

SCAVENGING HYENA

2

3

ANIMAL COMPANION

2

3

EAGLEHORN BOW

2

3

KILL COMMAND

2

3

RAT PACK

1

3

UNLEASH THE HOUNDS

2

4

HOUNDMASTER

2

4

INFESTED WOLF

1

5

TUNDRA RHINO

2

6

SAVANNAH HIGHMANE

2

1

ALLEYCAT

2

1

HUNGRY CRAB

1

1

JEWELED MACAW

2

2

CRACKLING RAZORMAW

2

2

DIRE WOLF ALPHA

2

2

KINDLY GRANDMOTHER

2

2

SCAVENGING HYENA

2

3

ANIMAL COMPANION

2

3

EAGLEHORN BOW

2

3

KILL COMMAND

2

3

UNLEASH THE HOUNDS

1

4

HOUNDMASTER

2

4

INFESTED WOLF

2

5

NESTING ROC

2

5

TUNDRA RHINO

2

6

SAVANNAH HIGHMANE

2

1

ALLEYCAT

2

1

FIERY BAT

2

1

JEWELED MACAW

2

2

CRACKLING RAZORMAW

2

2

KINDLY GRANDMOTHER

2

2

SCAVENGING HYENA

2

3

ANIMAL COMPANION

2

3

DEADLY SHOT

1

3

EAGLEHORN BOW

2

3

KILL COMMAND

2

3

RAT PACK

2

3

UNLEASH THE HOUNDS

1

4

HOUNDMASTER

2

5

NESTING ROC

2

5

STAMPEDING KODO

1

5

TUNDRA RHINO

1

6

SAVANNAH HIGHMANE

2

1

ALLEYCAT

2

1

FIERY BAT

1

1

JEWELED MACAW

2

2

CRACKLING RAZORMAW

2

2

GOLAKKA CRAWLER

1

2

GRIEVOUS BITE

1

2

SCAVENGING HYENA

2

2

TROGG BEASTRAGER

1

3

ANIMAL COMPANION

2

3

EAGLEHORN BOW

1

3

KILL COMMAND

2

3

RAT PACK

2

3

UNLEASH THE HOUNDS

2

4

HOUNDMASTER

2

4

INFESTED WOLF

2

5

NESTING ROC

2

5

TOL'VIR WARDEN

1

6

SAVANNAH HIGHMANE

2

2.0%

1

ALLEYCAT

2

1

FIRE FLY

2

1

HUNGRY CRAB

2

2

CRACKLING RAZORMAW

2

2

DIRE WOLF ALPHA

2

2

KINDLY GRANDMOTHER

2

2

SCAVENGING HYENA

2

3

ANIMAL COMPANION

2

3

EAGLEHORN BOW

2

3

KILL COMMAND

2

3

RAT PACK

1

3

UNLEASH THE HOUNDS

2

3

VICIOUS FLEDGLING

2

4

HOUNDMASTER

2

5

TUNDRA RHINO

1

6

SAVANNAH HIGHMANE

2

1

ALLEYCAT

2

1

FIERY BAT

2

1

FIRE FLY

2

1

HUNTER'S MARK

1

1

JEWELED MACAW

2

2

CRACKLING RAZORMAW

2

2

DIRE WOLF ALPHA

2

2

GOLAKKA CRAWLER

1

2

KINDLY GRANDMOTHER

2

2

RAVASAUR RUNT

2

2

SCAVENGING HYENA

2

3

ANIMAL COMPANION

1

3

EAGLEHORN BOW

1

3

KILL COMMAND

2

4

HOUNDMASTER

2

5

TOL'VIR WARDEN

1

5

TUNDRA RHINO

2

6

SAVANNAH HIGHMANE

1

1.7%

1

ALLEYCAT

2

1

HUNGRY CRAB

1

1

JEWELED MACAW

2

1

STAMPEDE

1

2

CRACKLING RAZORMAW

2

2

DIRE WOLF ALPHA

1

2

GOLAKKA CRAWLER

2

2

KINDLY GRANDMOTHER

2

2

SCAVENGING HYENA

2

3

ANIMAL COMPANION

2

3

DEADLY SHOT

1

3

EAGLEHORN BOW

1

3

KILL COMMAND

2

3

RAT PACK

1

3

UNLEASH THE HOUNDS

2

4

HOUNDMASTER

2

5

LEEROY JENKINS

5

NESTING ROC

1

6

SAVANNAH HIGHMANE

2

1

ALLEYCAT

2

1

FIERY BAT

1

1

JEWELED MACAW

2

2

CRACKLING RAZORMAW

2

2

GOLAKKA CRAWLER

2

2

GRIEVOUS BITE

1

2

KINDLY GRANDMOTHER

2

2

SCAVENGING HYENA

2

3

ANIMAL COMPANION

2

3

DEADLY SHOT

1

3

EAGLEHORN BOW

2

3

KILL COMMAND

2

3

RAT PACK

1

3

UNLEASH THE HOUNDS

2

4

HOUNDMASTER

2

4

INFESTED WOLF

1

5

BITTERTIDE HYDRA

1

6

SAVANNAH HIGHMANE

2

1.5%

1

ALLEYCAT

2

1

FIERY BAT

1

1

JEWELED MACAW

2

2

CRACKLING RAZORMAW

2

2

KINDLY GRANDMOTHER

2

2

KNIFE JUGGLER

2

2

SCAVENGING HYENA

2

3

ANIMAL COMPANION

2

3

EAGLEHORN BOW

2

3

KILL COMMAND

2

3

RAT PACK

2

3

UNLEASH THE HOUNDS

2

4

HOUNDMASTER

2

4

INFESTED WOLF

2

5

NESTING ROC

1

6

SAVANNAH HIGHMANE

2

1.4%

1

ALLEYCAT

2

1

FIERY BAT

1

1

HUNGRY CRAB

1

1

JEWELED MACAW

2

2

CRACKLING RAZORMAW

2

2

GOLAKKA CRAWLER

2

2

SCAVENGING HYENA

2

3

ANIMAL COMPANION

2

3

DEADLY SHOT

1

3

EAGLEHORN BOW

2

3

KILL COMMAND

2

3

RAT PACK

2

3

UNLEASH THE HOUNDS

2

4

HOUNDMASTER

2

5

NESTING ROC

2

5

TUNDRA RHINO

1

6

SAVANNAH HIGHMANE

2

1

ALLEYCAT

2

1

JEWELED MACAW

2

2

CRACKLING RAZORMAW

2

2

GOLAKKA CRAWLER

2

2

KINDLY GRANDMOTHER

2

2

SCAVENGING HYENA

2

3

ANIMAL COMPANION

2

3

DEADLY SHOT

1

3

EAGLEHORN BOW

2

3

KILL COMMAND

2

3

RAT PACK

2

3

UNLEASH THE HOUNDS

2

4

HOUNDMASTER

2

5

NESTING ROC

1

5

TOL'VIR WARDEN

1

5

TUNDRA RHINO

1

6

SAVANNAH HIGHMANE

2

1

ALLEYCAT

2

1

JEWELED MACAW

2

2

CAT TRICK

1

2

CRACKLING RAZORMAW

2

2

DINOMANCY

2

2

FREEZING TRAP

1

2

KINDLY GRANDMOTHER

2

2

STUBBORN GASTROPOD

1

3

ANIMAL COMPANION

2

3

EAGLEHORN BOW

2

3

EGGNAPPER

1

3

KILL COMMAND

2

3

RAT PACK

2

4

HOUNDMASTER

2

4

INFESTED WOLF

2

5

NESTING ROC

1

5

TUNDRA RHINO

1

6

SAVANNAH HIGHMANE

2
Budget Variants